Description
JIVERCI 1100WH PORTABLE POWER STATION, OUTDOOR SOLAR GENERATORS 1000W(PEAK 2000W), 300000MAH MOBILE LITHIUM BATTERY PACK, 110V AC OUTLETS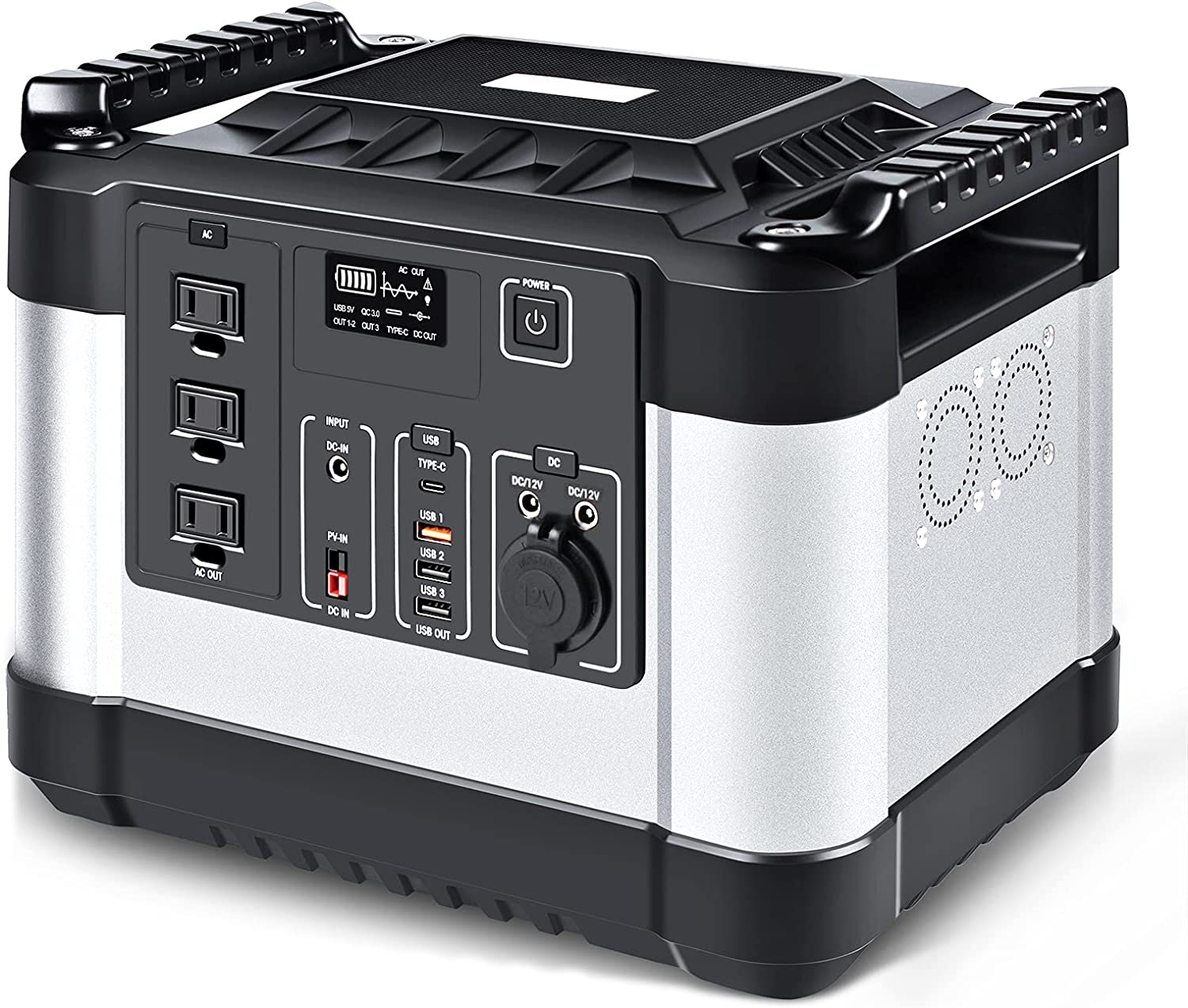 Embrace The Convenience Of Multiple Charging With JIVERCI 1000w Portable power station on the go!
JIVERCI portable power station1000w is designed for outdoor activities' power supply. Size (,13.38*9.05*9.84in) with big capacity (1100Wh), the most portable all-in-one power station can fulfill your demand for camping or emergency.

Main Features:
[300000mAh / 1100Wh high-capacity battery]-This Portable power station for home use with a high-quality original lithium-ion battery, large capacity, low battery loss rate, long life, multiple interface designs, can meet various indoor and outdoor power needs.​
[Multiple charging output options]-Solar generator 1000w,with Pure Sine Wave AC Outlet 2* AC outlet (110V 1000W 2000W Peak), 2* USB-A ports, and 2* DC ports which can charge up to many devices at the same time.
[Applicable to multiple devices]This inverter generator suitable for mobile phones, laptops, cameras, vehicle equipment, refrigerators, rice cookers, etc., and can provide you with charging power at any time.
[Outdoor solar panel charging]-This Solar generator Equipped with outdoor solar powered generator, it is convenient and simple to assemble, provides strong endurance, and meets the continuous electricity demand for outdoor activities.
[Solar panel maximum power point tracking function]-This electric generator is optimized for solar generator to improve solar charging efficiency. Under sunny conditions, high-efficiency and high-conversion charging modes can be realized, charging as fast as 6 hours.
[Stable performance]-The outdoor generators energy storage power supply has an advanced fully intelligent power supply system and a mute system, with stable power output and noise-free operation.
[Fast heat dissipation, no overheating] This power generator supply slow heat generation, fast battery heat dissipation, high battery discharge efficiency, fast charging efficiency, and longer cycle life.
[Safety protection] The solar generators power outlet has a strong safety protection function, and the battery management system has built-in eight layers of protection functions to ensure sufficient safety for customers during use.
[Small size and easy to carry]-The lithium battery power station supply is light in weight and small in size. It can be used indoors and outdoors and can be placed in the car to meet the needs of various electrical appliances for outdoor camping gatherings.
[Emergency backup power supply] JIVERCI portable power station inverter meets home backup power supply, emergency power supply, waterproof and high-temperature resistance, safe use in harsh environments.
Specification:
Battery: Lithium-ion Battery
Capacity: 1100Wh
DC Input: 12V/10A
AC Output: 1000W Rated,2000W Peak Power
DC Outputs: 12-16.8V/10A (14.5A Max)
USB Outputs(3): 2×USB-A: 5V/2.4A
1×USB-A: QC3.0, 5-12V/18W
Weight: 24.91lb (13.6kg)
Dimensions:13.38*9.05*9.84ininch(340x320x250mm)
Package contents
1×Portable Power Supply
1×AC Adapter
1× Boost Car Charger
1×User Manual
1100W Portable Power Station Solar Generator
Solar Generator